Quentin Tarantino's collection of films are famous for their gritty, edgy storylines and amazing action sequences. Tarantino fans also know that each of his movies is packed with tantalizing Easter eggs and clever inside jokes that viewers can enjoy when they go through his whole catalog (perhaps several times). If you are a big fan of Quentin Tarantino, you also know that he has included some impressive continuity between a lot of his movies, cluing us into the fact that many of his stories take place in the same universe. Here are some Easter eggs and hidden details in Tarantino films that you probably missed when watching the first (or second, or third) time around, if you didn't pay enough attention.
What Can He Say? He Tries
In Once Upon a Time…In Hollywood (2019), our main characters Rick Dalton and Cliff Booth have a true friendship. No matter how much fame and fortune may try to break them up, they will always remain friends. Tarantino has their friendship come full circle with two scenes: one at the beginning and one at the end.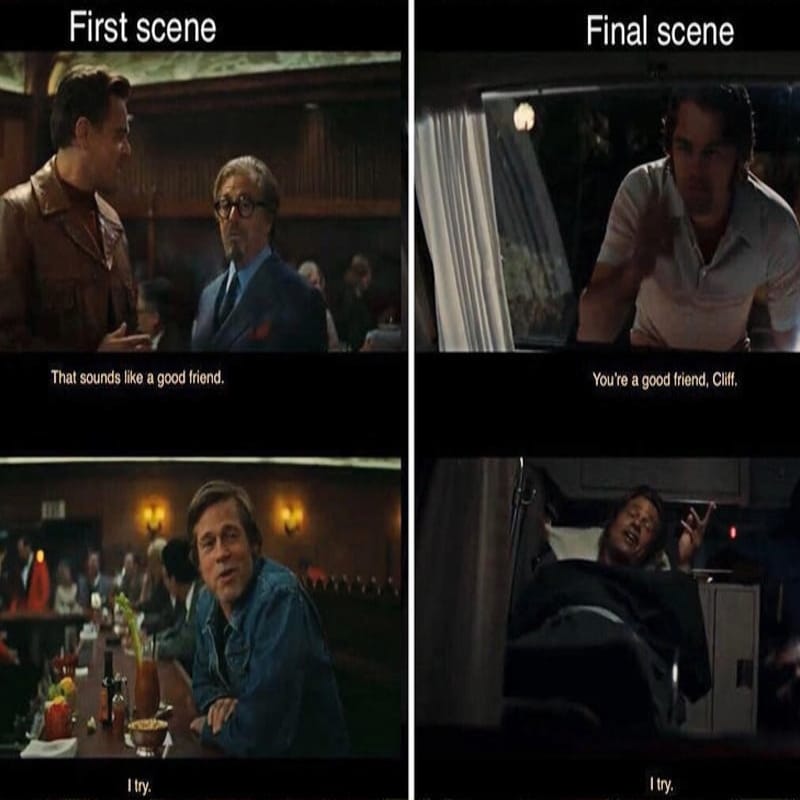 At the beginning of Once Upon a Time…In Hollywood, Cliff Booth, played by Brad Pitt, is questioned about his integrity and friendship with Rick Dalton, played by Leonardo DiCaprio. In answer to the question, Booth replies 'I try'. At the end of the film, their friendship comes full circle when Dalton tells Booth 'You're a good friend, Cliff,' to which Booth again says 'I try.' At that point, most people probably forgot all about that first scene.