If you go to the right stores and have the right attitude, shopping doesn't have to be a chore. Whether you're going grocery shopping or shopping for holiday presents, shopping is often boring and tedious. Not at these creative establishments, who came up with whimsical signs that make shopping entertaining! Whether it was an intended joke or an unfortunate mistake, these stores have managed to put a fun spin on shopping. One thing's for sure – these stores have done something right, and the customers will be going back for more (laughs!).
Say Cheese
We don't always pay attention to the different signs around the store. Usually, when we go grocery shopping, we head straight to the aisle with the products we need and try to get out of the store as quickly as we can. However, you'd be surprised to learn how many stores put extra thought into their signs, so it's worthwhile to take the time and read them all!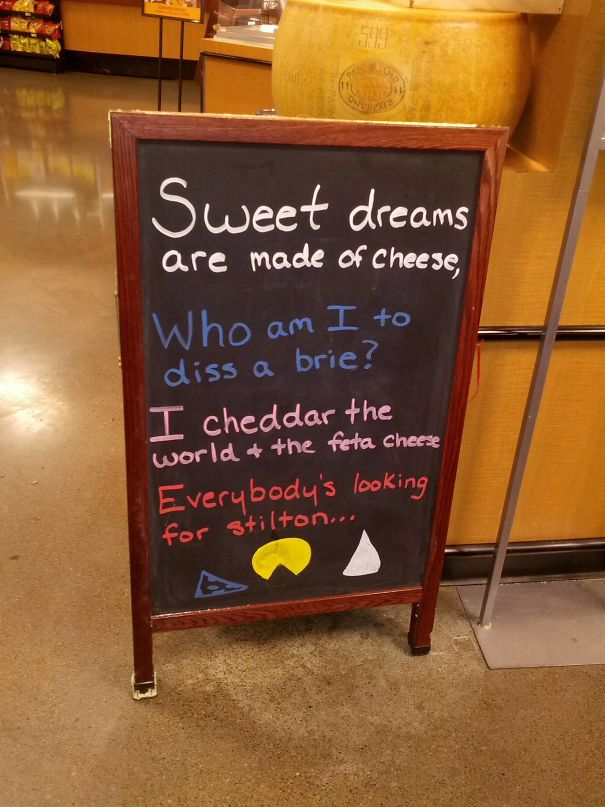 Take this sign, for example. True cheese lovers would be able to appreciate the brilliance of this cheese aisle sign. Great, now we won't be able to get the song out of our heads for the rest of the day, but we must say we like this cheese version better than the original. The original song has somewhat of a dark vibe to it, but who doesn't love cheese?