Domestic cats have been around for nearly 10,000 years. Although we don't know exactly when and where the first cat was domesticated, all domestic cats today can be traced back to one amazing journey of a female wildcat that started in the Middle East and ended in Europe.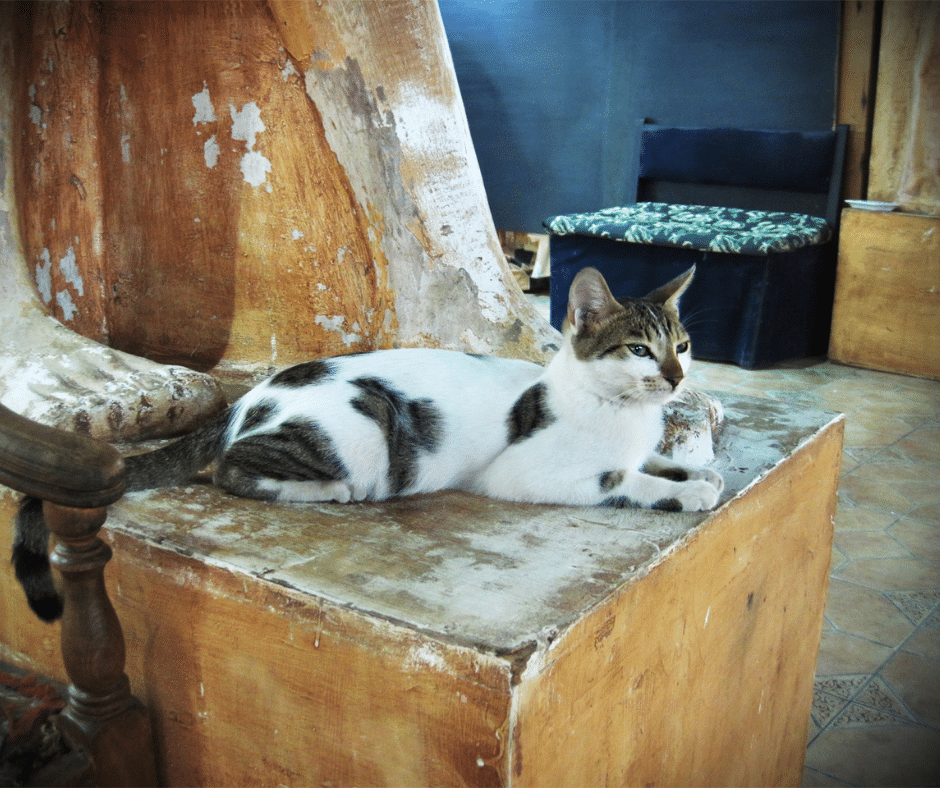 This is the story of that journey and how domesticated cats have changed over time.
Domestication History of Cats
Humans and cats have had a unique relationship for millennia. Ancient Egyptians worshipped them, European settlers brought them to America to deal with pests, and every day we share our homes with these furry companions. But where did this whole thing start?
The story might go something like this: A young woman is hanging out by the Fertile Crescent, which means she's in the Middle East back when it was full of jungle. She sees a small wildcat, probably an African wild cat or sand cat, and gives it some food. The next day, the little kitty comes back. This continues for a while.
Eventually, the woman builds a little house for the cat and decides to keep it as a pet. After all, that first cat probably had kittens. And then those kittens probably started having kittens of their own! This means that eventually there were quite a lot of cats in this area—because, well, cats are really good at making more cats.
This is where the domestication of these animals started—as well as their journey to other parts of the world. But how did it happen? And what does this mean for modern-day kitties?
The Fertile Crescent Theory
There are a few different theories out there about how this ancient cat-human relationship bloomed. One of the more popular ones centers around the Fertile Crescent, an area that stretches from modern day Jordan to the eastern shore of the Mediterranean Sea. People have been living in this area for about 10,000 years.
Researchers have found proof of early settlement near small villages situated on hills close to rivers. People would live near the water, where they could plant crops and find food. And now for the cat connection—in addition to people living in this area, there were also wildcats.
The cats probably lived off the mice that infested all of those crops. These early farmers may have noticed that when they stored grain, the mice would get in and eat it. But after the cats moved in, the mice got wise and stopped taking these foodstuffs.
It didn't take long for people to realize that they could leave out some extra food for the cats when they stored grain—it worked just as well! The cats were rewarded with a nice meal, and the people would end up with less food to lose to mice. Cats were effectively livestock, but there was no one out there looking out for them the way they are today.
Eventually, these early farmers moved on and started expanding their territory—but not without taking their beloved kitties with them! They brought the cats along when they went back to the Fertile Crescent, but they also took them to Europe too.
Some cats might have stayed behind with other people that didn't want to travel as far. There are even some theories that cats spread throughout the world on their own over time without any help from humans! But no matter how it happened, this is how domestication first got its start.
The Spread of Cats
Moving forward in time, we find that cats have become domesticated animals with an extremely long list of jobs—and they're still expanding their resume today. After the Fertile Crescent, they were used to control pests on ships and estates throughout Europe for hundreds of years before eventually making their way to America.
At the time, people needed all the help they could get with pesky rodents taking their grain stores. They tried everything to keep them away, but nothing worked. Once again, cats came in and saved the day—and hundreds of years later, we still have cats around today to thank for that.
Today's Cats are Different
While the basic domestication process remains the same, modern day cats aren't exactly like those that we started out with all those years ago. Cats, as we know them today, come from two different lineages—the Near Eastern and Southern African wildcats. These cats are smaller than their ancestors, so they need less food to survive.
Today, the average cat lives somewhere between twelve and fifteen years. Ancient Egyptians believed that cats were immortal, but there's no way of knowing if any of their cats really lived that long. It would be nice to think so!
Domestication may have started out as a working relationship between humans and cats, but it quickly became a strong bond that continues to this day.